Algrim Whitefang
Warhammer 40,000 Homebrew Wiki Founder & Senior Administrator
"Ave Imperator! Øjor Va Russ! Leman Russ!"

— Space Wolves Battle-Cry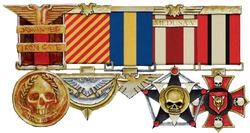 Greetings
I'm Algrim Whitefang, your humble Senior Administrator here at the Warhammer 40,000 Homebrew Wiki. I am also the senior Associate Administrator and avid contributor of the Warhammer 40K Wiki. In the real-world I am a former U.S. Army soldier, Iraq War combat veteran and Purple Heart recipient. I've been a long time fan and player of everything WH40K since days of yore (Rogue Trader Era, circa 1989). I'm also the twin brother of Achilles Prime (aka Jake).
If for some reason you cannot get a hold of me on my Talk Page, you are more than welcome to contact me over on the Warhammer 40,000 Wiki Algrim Whitefang's Talk Page
Also, if you want to check out some of my art, you can follow me here on Instagram or Deviantart (zmanwoo).


Trivia
My Articles
Space Marine Chapters
Imperial Organisations
Astra Militarum Regiments
Planets
Abhumans
Technology
Miscellaneous
Chaos Warbands & Renegade Chapters
Chaos Cults
Contributions
Favorite Space Marine Pages
Favorite Astra Militarum Articles
Favorite Chaos Space Marine Warbands
Favorite Renegade Chapters
My Sandbox (Where the magic happens!)
Favorite Inspirational Music
"The Sons of Fenris they are, hardened in the forge of their harsh world, eager for battle and honor. They are the grey warriors, ashen like the wolf, whose greatest joy is to hear the clamor of steel amidst the din of war."

— Taken from the Space Wolves Catechism
Community content is available under
CC-BY-SA
unless otherwise noted.