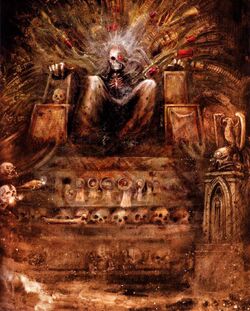 Greetings and salutations!
Welcome one and all to the 'Warhammer 40K Homebrew Wiki! We are a fan-based community that is about the tabletop game Warhammer 40,000 produced by Games Workshop. We are an all-inclusive community that welcomes those who wish to join a positive, supportive environment to create their own fanon lore. Everyone is free to create, write and enhance articles. So come on in, take a look around, and feel free to contribute if you'd like to join our community.
Please be sure to read over the WH40K Homebrew Wiki:Rules and familiarize yourself with how we do things here on the wiki. Also, please familiarize yourself with our wiki's Policies which help expedite appropriate conduct or action. If you need assistance with how to write about certain armies, factions or characters, or you wish to familiarize yourself with how to utilize some of the wiki's various functions, please visit our WH40K Homebrew Wiki:Guide Portal.
If you need additional help, please don't hesitate to contact one of our site's administrators for additional assistance. They will be sure to get back to you as soon as possible in order to help facilitate any assistance you might need.
We hope you enjoy your time here on the WH40K Homebrew Wiki. Please enjoy your stay!